Electroplating is a process which metals pass through to bond a compound or another metal on them so that their conductivity capacity will improve as well as provide protection against corrosion and wear. If you want to preserve your metal parts before using them for fabrication, you must plate them accurately to achieve a good finish.
There are many methods of electroplating metal parts like rack plating, barrel plating, vibratory plating and others. Amongst all the available plating methods, the commonest are barrel plating and rack plating. It is not always easy to choose the best electroplating method for your project but if you do, be assured that you will get optimal results while minimizing the risks of damages on your finished product.
Before I go ahead to write in-depth information about barrel plating vs. rack plating, I want to impress your mind with this scenario. Let's say that you have hundreds of parts for electroplating in the shortest time within a tight budget, what will you do? One of the things that will make anybody's services efficient and impressive for continued patronage is your ability to deliver quality results promptly within a cost-efficient framework.
If you want your clients to return for more or even recommend your services to their colleagues and friends, you must always impress them with continued quality result rendition. Therefore, before you start any electroplating project, you must sit down and ask yourself, barrel plating vs. rack plating, which one is the best option for this project.
So what is barrel plating?
Barrel plating is simply electroplating metal parts using a barrel. The barrel used for this plating is always constructed of polypropylene material. Inside the barrel, there are center bars that are in charge of conducting sufficient electrical current which will make the whole process to work as expected. The barrel plating process involves a slow rotation of the barrel immersed in an electrolytic solution which is required for the plating. This rotation will result in a cascading or tumbling movement of all the metal parts in the barrel. As this process continues, the coating will attach to the parts to provide a uniform finish.

Some of the reasons for barrel plating is to produce finishing that will make the metal parts resistant to wear and tear. Barrel plating increases the aesthetic appeal of the electroplated parts and also enhance their capacity to resist corrosion.
The decision to use barrel plating is fascinating if you check out the advantages thereof. If I start from the most common benefit of barrel plating, it will be that you can use it to handle high volume projects in the shortest time possible. Yes! If you are choked up with work or the pressure to deliver electroplated parts for item fabrication is getting you upset, barrel plating is the best thing that can happen to you at this point of frustration. When you make use of barrel plating method, you will not only save time, but you will save money as well.
Other advantages make the use of barrel plating method very interesting:
1. You will use a single vessel
With the right sizes of a barrel, you can handle every plating need for your project. Be it parts cleaning, rinsing, parts pickling or even sealing, all you need is one single vessel, and that's it!
2. Barrel plating handles variety
With barrel method, any parts you have will be electroplated in the barrel. So when you have varieties of parts to electroplate, there is no need for various equipment since your barrel can take any part that can fit into it.
3. Be sure of a uniform finish
Using the barrel plating method is a sure way of achieving a uniform engineering finish on all the electroplated parts. A barrel plating machine rotates and causes metal parts to tumble. This cascading makes a bipolar contact among parts possible and result in a uniform finish. This electroplating method is popular for achieving this result after metal parts plating.
4. You will spend less
Barrel plating provides low-cost dual benefit if you use it for your project. It benefits both you and your customers. This method will help you to minimize your operational costs which will result in low-cost service rendition to your clients as well. In some cases, you may not even need additional fixtures, part carrier or agitation equipment while using the barrel plating method and this will reduce costs as well.
5. Barrel plating require minimum labor
Labor cost is one of the things that increase your service costs. If you are making use of barrel plating, you will need fewer hands to carry out the operation or the processes involved in the method. All you need is one barrel equipment, and that's all. Other plating methods may require many people to join hands but not with barrel plating.
6. The method utilizes little space
Barrel plating happens in one barrel. You don't need to create a large space like if you are using rack plating. You can set up the barrel plating equipment in whatsoever space you have and still achieve the same wonderful results.
No matter how wonderful barrel plating is, there are some downsides to this plating method which I want to point out to aid your decision on barrel plating vs. rack plating.
1. Barrel plating utilizes low current 
Due to the low current requirement of barrel plating technique, the metal parts are exposed longer than necessary.
2. It can't handle all the parts
Sometimes, there are very large and complex metal parts that will not fit properly into the barrel plating equipment. When this scenario occurs, your choice will no longer be barrel plating. Also, some parts can fit in the barrel, but they are too delicate to withstand the cascading that occurs during the barrel plating process. At this point, you will have to use other plating methods.
Now that you have seen the make-up and capacity of barrel plating let's consider its counterpart.
Rack Plating
Another common method of electroplating parts is the rack plating method. This method involves plating metal parts by hanging them on a metallic fixture which supplies the galvanic cell circuit necessary for the electroplating process.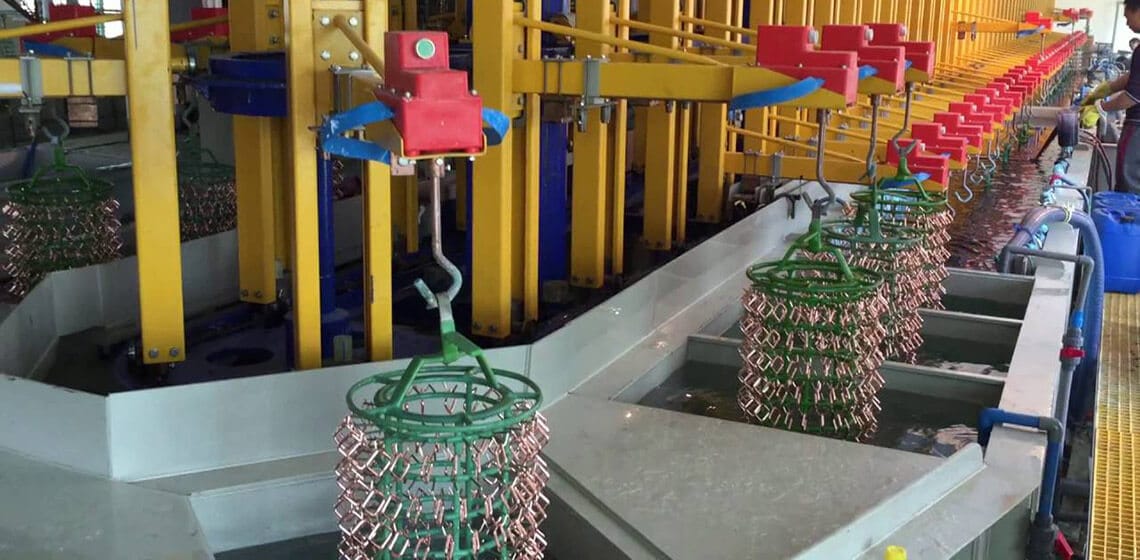 On the rack, there are wires, pins, and screws which ensures that there will be less electrical contact during the process. As a result of the minimal contact, the finishing that will be achieved on the metal parts will be a high-quality coating.
Rack plating process starts from hanging the metal parts on your plating rack. When you are done, use bonds or metal hooks to keep the parts in the right position. Afterwards, dip the parts in either the Chrome or Nickel solution and apply your electrical current. The best way to enjoy this plating method is to use it for selection or partial coating.
However, some specific coating requirement for metal parts may necessitate the use of rack plating. Apart from the requirements, some applications that need rack plating service like copper alloys and nickel-silver, Steel, aluminum steel, Inconel and Monel, Stainless steel, etc. Also, there some kinds of plating that will only pass through rack plating like copper plating, bright nickel plating, silver plating, electroless nickel plating, gold plating and electrolytic plating.
One good reason for using rack plating is because some of the parts that pass through electroplating are delicate. Sometimes, they come in complex geometry which may hinder a uniform finish result through other plating methods. As a result, the only plating method that can efficiently provide smooth finishing to these parts with complex contours is rack plating method.
So if you know that the metal parts you want to electroplate will suffer damages if they pass through barrel plating and others, you will pick the rack plating method. Also, some parts are larger than others. When any metal part is large and cannot pass through any other plating method, your best option is to plate it on a rack.
With the rack plating method, you can carry out the following types of plating, Zinc and Aluminum plating using Chrome and Nickel plating solutions. Rack plating comes preferred to single parts plating where you will have to plate your metal parts one by one. Talk about time killing and cost building. Instead of handling every part differently, take as many as the rack can carry and start the electroplating process.
There are many advantages to using rack plating method of electroplating metal parts:
1. It can plate any size or shape
Rack plating method can plate any size of metal part you may have to electroplate. Since you are not putting them in a barrel, you can hang them on the rack and go ahead with the process. Some parts that have complex geometry which you must plate the contours can still get a uniform finishing through rack plating method. All you need is to do is to customize the rack to fit the needs of the project and also use engineers who are old hands in rack plating.
2. Rack plating can handle fragile parts
Some of the parts that can easily damage if you put them through rough handling are best suited for rack plating. Sometimes, when you may need to electroplate metal parts that have sensitive tips, don't try other methods just use the rack plating method to protect these parts tips from damage.
3. Rack plating produces scratch-free results.
In preparing the metal parts for electroplating, all you will do is hang them and hold them in place with metal hooks or bonds. Each of the items is purely on their own with little or no contact with other parts. After passing through the plating process, you will notice that they will be smooth without any scratch. In rare cases, you may notice little scratches that are not detrimental to the use of such part.
4. There will be uniform finish
One good reason for using rack plating is that you can achieve a uniform finish for all the parts even those of complex geometry. It produces an overall good result.
There are also some limitations to using rack plating method.
1. High equipment cost
Rack plating equipment is costly to fabricate than others. You may need to spend more to get the size that will fit your budget for the whole process.
2. It takes time
Before plating the metal parts on the rack, you will have to hang them manually. If you have hundreds of metal parts to electroplate, I don't have to tell you how long it will take you to finish.
3. It plates limited number
You can only plate as many parts that can hang on the rack for each batch. Unless you have a large rack plating equipment that can carry as many as possible but it will still be limited to the length of the rack.
4. Rack plating is labor intensive
It will take many hands to handle huge projects. One man or few cannot rack plate hundreds of parts and finish it as per client's deadline. So with this method, you will have to use many people.
5. The method is costly
Due to the large requirement of human resources and the time required for rack plating, this method becomes very expensive to operate. People who have a large volume project often spend more especially if they have parts that can only pass through the rack plating method.
6. It may be hard to achieve uniform finish
If you want to electroplate parts that have complex geometry through rack plating, you must need to use anodes or rubbers or anodes to improve the efficiency of the whole system. If you don't want to use anodes, you can customize the rack plating equipment to fit the part geometry for better results.
Barrel Plating vs Rack Plating
After going through each of rack plating and barrel plating methods of electroplating metal parts, the decision now remains, which method is suitable for my project? So I am going to make it simpler by pointing out some things you will consider before deciding to use either method for your electroplating project.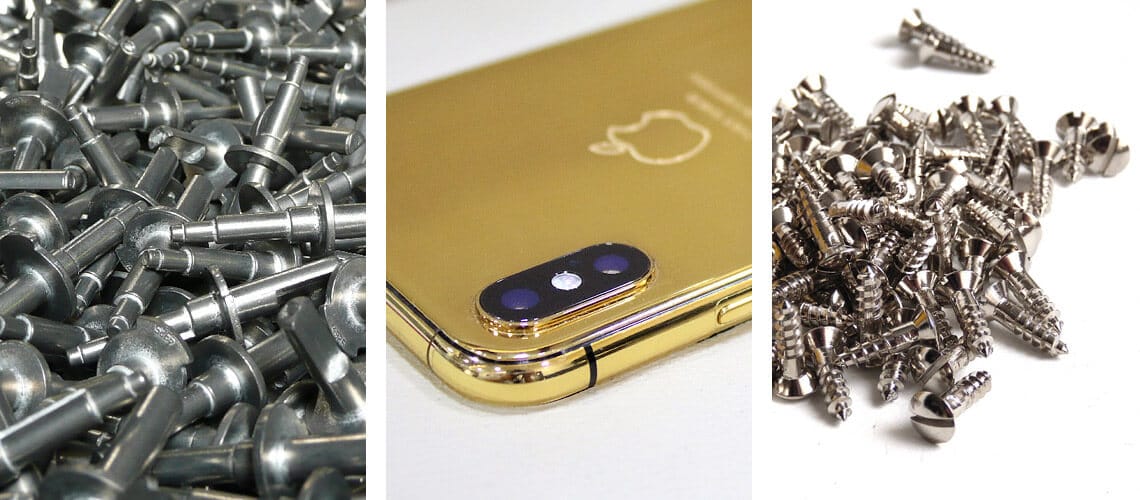 Things to consider before using Barrel plating or Rack plating method.
No matter how tempting it is to finish your project on time, you can't just use barrel plating without making sure that it can provide a perfect finish for the metal parts. To make sure that you are on the right track, consider the following things:
1. The size of the parts
When it comes to barrel plating, the rule of thumb is, if the part can fit into the barrel, you can electroplate it. Now, what are sizes of the metal parts in your project? Can they fit into the barrel or will they be better on a rack? When you check out the size, and they can fit the barrel, go ahead and use barrel plating method. But peradventure the sizes of the parts cannot fit appropriately inside the barrel, opt for rack plating to ensure a uniform finish especially on the contours of the metal parts.
2. Nature of the parts
In barrel plating, the process involves a lot of tumbling or cascading as you may prefer. Some parts that are too delicate to withstand such tumult will just suffer damages thereby leading to increased production costs. When you have delicate parts, it is advisable to use the rack plating method but when the parts are sturdy and wouldn't feel the brunt of other metals on their surfaces, go for barrel plating method to save time and cost. However, there are some cases where you might notice some rack marks on the electroplated parts but no cause for alarm since it will not cause any harm.
3. The cost of production
Rack plating methods take time to finish. The process is somewhat rigorous and demanding, and as a result, it is always an expensive method of electroplating both for the owner of the project and the person handling it. When your service cost is high, it will also increase the operational costs of your client. If you have a high volume of metal parts to be electroplated, it is advisable to use the barrel plating method. This method will handle the whole process in few rounds without you noticing it at all.
4. Labor requirements
In barrel plating, everything happens in one vessel. You don't need many hands to put the metal parts into the electroplating barrel. After loading the parts, you watch as the parts move about to get the plating solution coated on their surface. In rack plating, you will hang the parts manually before you start the process. You will also monitor the movement of the crane depending on the rack plating equipment you are using. This whole process will require a lot of people so that you can finish the project within the stipulated time frame. So, if you can't afford to hire many engineers to work on your project, use the barrel plating method but if you can, make use of the rack plating method.
5. The project deadline
If you have an urgent project to handle, the best electroplating method to use is barrel plating. It will electroplate volumes at once and finish the project quickly. On the other hand, if you are making use of rack plating, you are sure to miss the deadline if the number of the parts are many.
6. The volume of the job
When you have many parts to electroplate, use the barrel plating method unless the parts are all delicate. If the volume is small, you can make use of the rack plating method. Barrel plating can handle thousands of plating in few batches. To avoid stress, use the barrel plating equipment for a large volume of parts.
7. Initial investment
To get good barrel plating equipment, you don't need to drain your bank account. These machines come affordable and still serve your needs. However, if you are operating on a high budget, you can go for rack plating equipment which is more expensive.
8. The processing time
Although barrel plating can produce many electroplated parts at once, the equipment only uses low DC electrical current. As a result, it takes a lot of time for each batch to process. Even though rack plating cannot produce as many parts at once like barrel plating, you can still achieve a good volume depending on how fast you are.
9. The quality of the finishing
If you are working in the industry that requires high-quality finishes after electroplating, consider using the rack plating method. Some parts like medical, automotive, electronics, military parts, etc. will be perfect for rack plating instead of using barrel plating to achieve decorative finishes. But if you want to electroplate parts that don't require decorative finishes like fasteners, utilize the low-cost production of barrel plating.
Barrel plating and rack plating, which is better?
Given what we have seen so far, there are no grounds to conclude that either of the plating methods is better than the other. Both barrel plating and rack plating are compatible with different finishing technologies. Each one of the methods can electroplate precious metals such as gold and silver. Also, you can electroplate metals like copper, tin, zinc, and nickel using either barrel or rack plating.
The decision to choose either of the two plating methods depends on the project you are handling. You can easily decide if you consider the shape, nature, size, cost, budget, labor, specification, quality of finishing, etc. So you see, you can't just decide to use either barrel or rack plating. The requirements of the project you are handling will determine which method to use.
To make your plating services legendary, you can get both barrel plating and rack plating equipment. As each project comes, follow our tips to decide on which method to utilize. None of this two electroplating method is better than the other one. Each one has unique characteristics that make it suitable for different projects.